At a glance
Expert's Rating
Pros
Attractive industrial design
Built-in Qi charger
Automatic operation in Smart mode
Cons
Relatively low clean-air delivery rates
Gets loud when running at full tilt
Wi-Fi-connected model costs $50 more
Our Verdict
The Coway Airmega Icon can treat the air in a good-sized room, and its pretty looks go a long way toward compensating for its relatively low clean-air delivery rates and higher-than-average price tag.
Best Prices Today: Coway Airmega Icon
When you're shopping for an air purifier to clear the air inside your home, you're likely checking a lot of boxes: How many square feet can it clean? What types of airborne pollutants will it neutralize? Which type of filter does it use? And so on. If there's even a box for how attractive the appliance is, it's likely far down the list. It doesn't have to be if you're looking at the Coway Airmega Icon.
In a universe filled with air purifiers shaped like utilitarian boxes or cylinders with universally ugly plastic intake and exhaust grilles, the Airmega Icon stands out for not standing out. While no one will mistake it for an object d'art, it at least won't make your living room or bedroom look like a medical clinic. It also has a bonus feature: an integrated Qi charger above its touch-sensitive control panel.
Note: This review covers the Airmega Icon. The step-up model Airmega IconS features an integrated Wi-Fi adapter, which allows remote control from your smartphone using the Airmega app. To learn about those features, you can read our Coway Airmega 250S review.
This review is part of TechHive's in-depth coverage of the best air purifiers.
Michael Brown/Foundry
Let's discuss the Airmega Icon 250's industrial design a bit more before we jump into its performance nitty-gritty, since that's the feature that makes it so different from most of the competition. The 21.4 x 22.3 x 8.8-inch (HxWxD) appliance stands on wooden legs, versus resting right on the floor, and its front panel is covered in a tweed-like beige fabric, which gives it a furniture-like appearance–it almost looks like a cocktail table. Its intake grille is on the back of the unit, behind a removable panel that further disguises its function. Clean air is exhausted through vents at the top of the unit, which is the only place that has a grille (which can be removed for periodic cleaning).
The appliance's controls are embedded in an 8 x 8-inch panel on the left-hand side of the unit, which also displays a reading for the current indoor air quality. This is expressed as a level of PM 2.5 (a measurement of airborne particulate matter smaller than 2.5 microns). This number remains illuminated while the purifier is operating, and an LED inside the air outlet changes color to provide a second visual indication of air quality: Blue is "good," green is "normal," yellow is "unhealthy," and red is "very unhealthy." You can turn the LED off if you're sensitive to light pollution.
What operating modes does the Coway Airmega Icon have?
Michael Brown/Foundry
None of the Icon's controls—including its on/off switch—will appear until you touch the panel. But there isn't much need to touch it at all once you've activated Smart mode ("smart" will be displayed on the panel). This will adjust the air purifier's three fan speeds according to the readings of its onboard air quality sensor: fan speed level 1 when the reading is "good," level 2 for "normal" and "unhealthy," and level 3 only when the indoor air quality is determined to be "very unhealthy." You can turn off Smart mode and set any of the three fan speeds manually with repeated button presses ("1," "2," or "3," will be displayed on the panel).
mentioned in this article
Coway Airmega 250S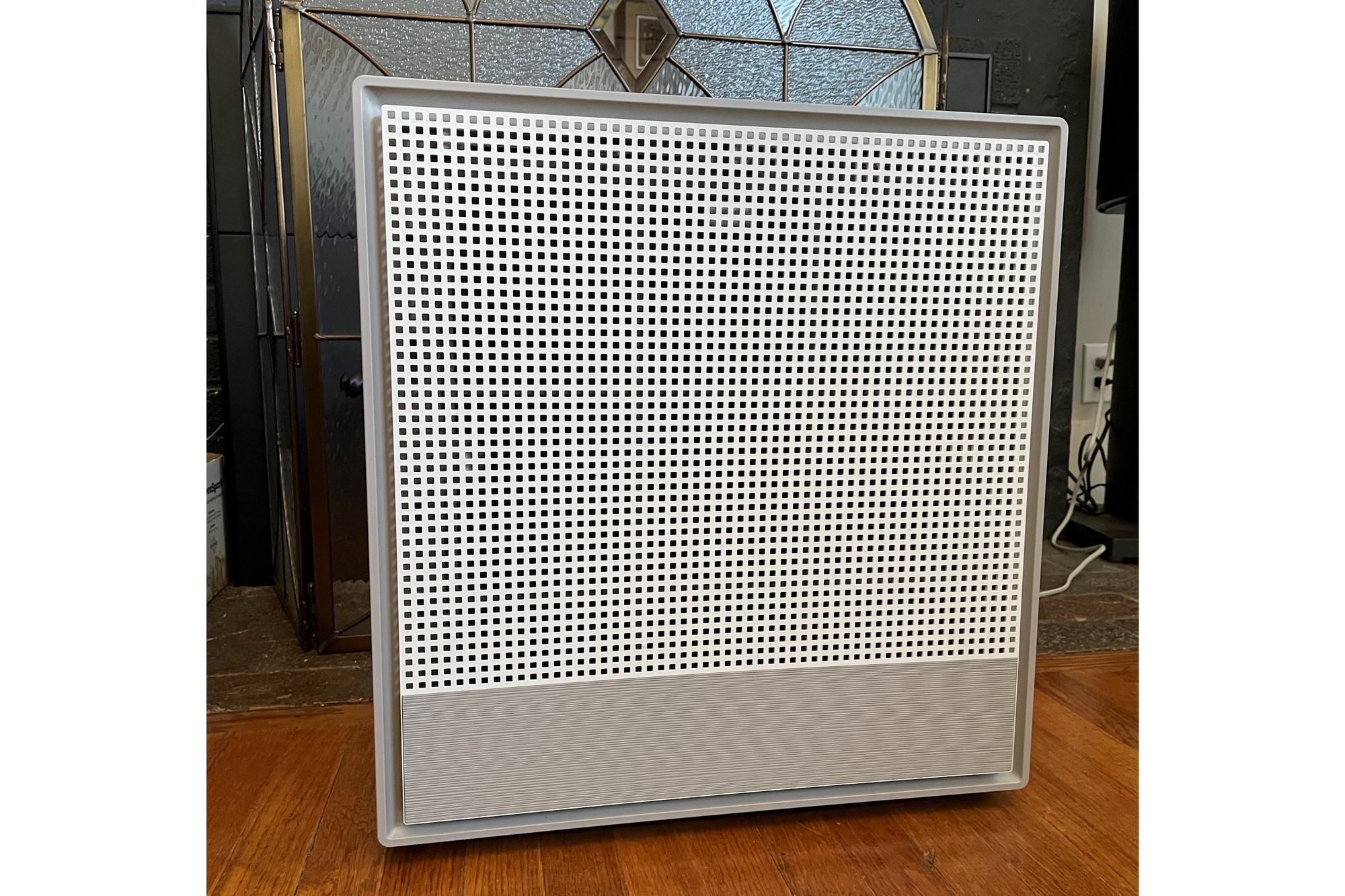 The Airmega Icon has two other operating modes as well, which are activated by pressing the Mode button: Sleep mode is ideal if you're using the appliance in a bedroom and don't want to be disturbed. The fan will run at minimum speed until you change it. In Eco mode, the fan will stop running for up to 30 minutes if the air quality sensor detects PM 2.5 levels to be lower than level one for more than 10 minutes. Unlike Sleep mode, however, the purifier will respond to deteriorating air quality and will spin the fan as fast as it needs to for as long as it needs to. Once its sensor resumes detecting PM 2.5 to be lower than level one for more than 10 minutes, it will shut the fan off for another 30 minutes. The appliance also has a timer function that will automatically shut it off after 2, 4, or 8 hours.
Coway rates the Airmega Icon as suitable for spaces up to 649 square feet, where it will deliver modest clean-air delivery rates (CADR) of 73 cubic feet per minute for smoke, 194.1 for dust, and 235.3 for pollen. The appliance operated in my living room in near silence during much of my long test period, but it would get a bit noisy when we were cooking in the adjacent kitchen. To be fair, the range hood in our 130-plus-year-old home simply vents back into the room—there's no proper ductwork to vent it outside (it's on my long to-do list). Coway rates its operational noise level as between 22dB(A) and 52dB(A) at its highest speed.
Michael Brown/Foundry
What type of filter does the Coway Airmega Icon use?
The Airmega Icon uses a permanent mesh pre-filter that slides into a channel in the back of the unit, once you've removed the plastic panel that covers it. This element removes large particles, pet hair, and mold from the air. The pre-filter should be cleaned (washed and/or vacuumed) every 2 to 4 weeks, depending on the amount of particulates in the air. An LED on the control panel will light up to remind you to clean it. Once you've done that, holding your finger down on the button next to the LED will reset the counter.
Air is then pulled through a second, multi-layer disposable filter consisting of an activated carbon filter that captures odorous gases and VOCs (volatile organic compounds). A HEPA filter bonded to the activated carbon filter promises to remove up to 99.97 percent of airborne particles, including allergens and particulate matter down to 0.3 microns. The HEPA filter is rated to last 6 to 12 months; again, depending on the home's overall air quality. Airmega Icon replacement filters cost around $56 at Amazon or $89 if purchased direct from Coway. As I said earlier, clean air is exhausted out the top of the Airmega Icon, through a plastic grille that can be removed so you can clean the top of the unit.
Should you buy the Coway Airmega Icon?
Coway makes some great air purifiers, but we value the Airmega Icon more for its looks than its performance. Its CADRs are on the low side, and it can get loud when it needs to run a very high speed. If you want smart features—app control and more informative readings of indoor air quality—the Airmega IconS is available for $50 more.
I use Coway's app with the Airmega 250S and find that I rarely even glance at it. I rely instead on a dedicated air-quality monitor, the Airthings View Plus, which tracks a bunch of air quality factors in addition to PM2.5; namely, CO2, humidity, temperature, VOCs, barometric pressure, and even radon (which can be a problem where I live). But the Airmega Icon is an undeniably pretty appliance in a space where that attribute is in short supply. And since an air purifier isn't something you can hide away, attractive industrial design counts for a lot. If you're shopping for an air purifier and design is high on your list of priorities, the Airmega Icon is a good choice.
Best Prices Today: Coway Airmega Icon